Fondata nel 2004 a Taipei, Qsan Technology fa parte del gruppo Gigabyte ed è un produttore e fornitore di una linea completa di prodotti di storage tra cui SAN iSCSI e Fibre Channel e NAS Unified storage per le PMI e il mercato SMB. I prodotti Qsan offrono il miglior rapporto prezzo-prestazioni per supportare i clienti vincolati ai budget di migliorare notevolmente l'efficienza nell'ambiente di lavoro.
A partire dalla sua fondazione, gli investimenti in ricerca e sviluppo di Qsan, hanno permesso di realizzare una serie di sistemi e soluzioni che nel tempo si è ulteriormente arricchita di nuove piattaforme che hanno l'obiettivo di ottimizzare e integrare gli ambienti IT aziendali. I sistemi Qsan sono distribuiti in oltre trenta paesi e fanno fronte alle esigenze di svariati settori industriali ed applicativi, come ad esempio il video editing e broadcasting, la videosorveglianza, carrier e services provider, ambienti di private cloud, e ambienti IT in generale.
XCUBENAS REPLICATOR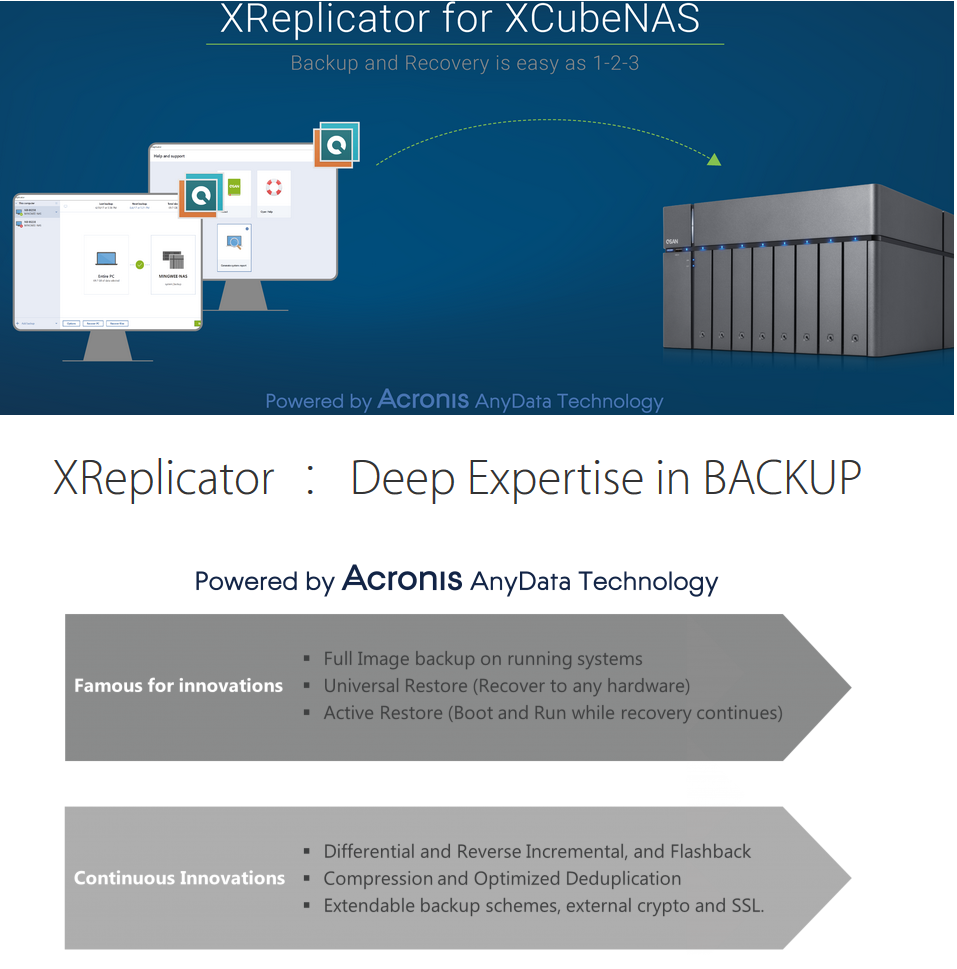 How XReplicator works
Backup and recovery
Backup refers to the making copies of data so that these additional copies may be used to recover the original after a data loss event.

Backup versions
Backup versions are the files created during each backup operation. The number of versions created is equal to the number of times the backup is executed.

Backup file format
QSAN XReplicator usually saves backup data in the proprietary tib format using compression.

Backup validation
The backup validation feature allows you to confirm that your data can be recovered. The program adds checksum values to the data blocks being backed up.

Multiple back schemes
Single version, Version Chain, Incremental, Differential, Custom.

Scheduling
For your backups to be really helpful, they must be as "up-to-date" as possible. Schedule your backups to run automatically and on a regular basis.
Alias Distribuisce QSan. Le categorie di QSan sono:
© Alias S.r.l. 2020. Tutti i diritti riservati. Sede Legale: Via San Francesco, 2 - 33100 Udine
Capitale sociale Euro 62.400,00 i.v., C.F. / P.IVA 01837180304, Iscrizione C.C.I.A.A. Registro Imprese di UDINE n. 01837180304
Privacy Policy
|
Cookie Policy
© project
Web Industry